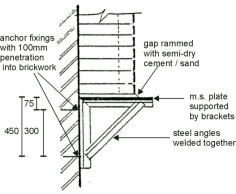 There are several aspects to chimney stack removal building regulations that must be followed during the removal of a chimney stack. These are:
Structural strength
Fire safety
Sound insulation
Maintenance of neighbours chimney
Damp prevention, and
Ventilation to rooms
Structural strength
Most single or 2 level houses with an external or Party walls which are one brick thick should have front and back walls less than 9m apart. In such cases, the walls should be strong enough structurally to remove chimney stacks without affecting the strength of the wall.



In the case of larger buildings however, it's advisable that a structural engineer check the strength of the wall and determine whether a buttress wall or pier may need to be provided instead of the chimney stack.
There are a number of ways of supporting a partially removed chimney which comply with the Building Regulations:
The insertion of a structural steel beam which usually involves the submission of structural calculations by your structural engineer to justify the proposed size of beam.
The insertion of steel beam and post if centre wall is not brickwork.
Use of gallows brackets where the chimney stack does not protrude from the wall by more than about a third of the thickness of the wall, the brickwork may in some circumstances be corbelled out or have gallows brackets installed.
Fire safety
Typically at least a one-hour fire resistance is required to wall between neighbouring properties.
Maintenance of neighbours chimney
If separation between flues is damaged carbon dioxide/ monoxide poisoning could result from the neighbour's fires.
Damp prevention
To ensure rain and condensation coming down the flue is dried out by natural convection, a ventilated cap is sometimes added to the top of chimney pots and air bricks installed low level.
Ventilation to rooms
Building Regulation Part F2 advises rooms to have permanent ventilation of at least 8,000mm2. Chimneys can provide this.
Planning permission
Listed Buildings and some Conservation areas may require an application to be made. Please write an enquiry letter to Planning Section.
We a Hylton Chimneys follow all building regulations and safety measures ensuring a professional and safe chimney stack removal. Contact us using the contact us form on the home page.